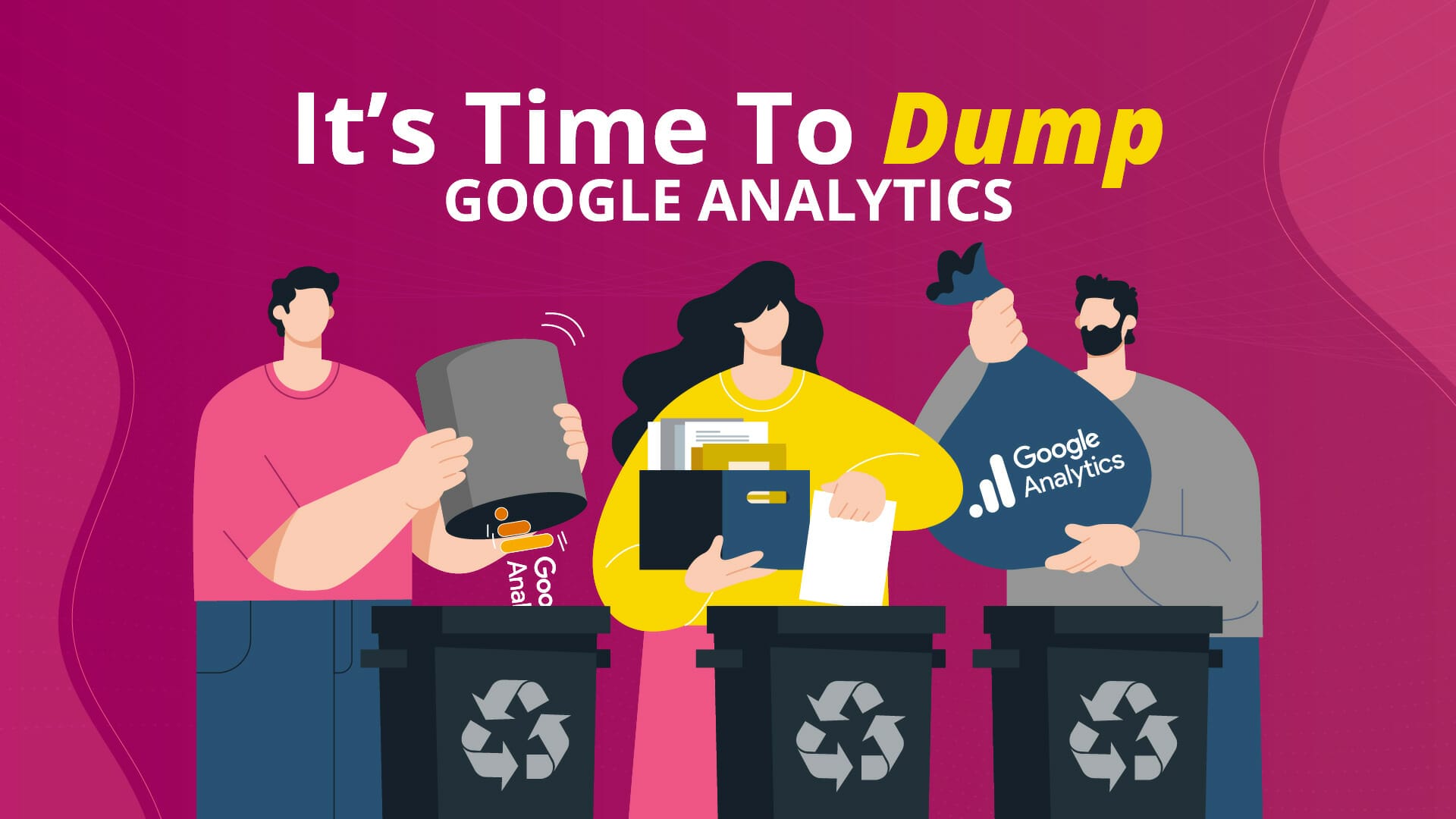 Last updated: June 20, 2023
The clock is ticking for Google Analytics users. In little more than a month, all Universal Analytics (UA) properties will stop processing data and will be replaced by Google Analytics 4 (GA4). In this article we'll run you through why we have stopped using Google Analytics altogether, and why we are advising our clients of the same.
Table of Contents
What's happening with Google Analytics?
Universal Google Analytics has been with us for 15 years, it's free and tells you what is happening on your website. Unfortunately it was built for a simpler time and isn't best suited for today's multi device environment (or the cookie less future). In 2022 Google announced it's retirement, and with it a drop dead date of July 1st 2023 when it will stop collecting information. In order to continue with your analytics they have put together Google Analytics version 4 which is very different in the way it collects data, and the way it reports.
Fail to migrate your UA property settings to Google Analytics 4, you will start loosing data on your visitor activity and in another 12 months all of the data you've painstakingly collected over several years will soon be gone and irrecoverable.
If the thought of migrating sounds challenging, we won't lie to you – it is. Particularly if UA is the only tool you've ever used. The learning curve for Version 4 is steep.
What's more, the migration process can be even more complicated to those who aren't tech-savvy.
"Unfortunately, the migration tool isn't perfect, and some goals can be missed. That's why it's essential to know the basics on migrating to GA4 from UA so you can create conversion events yourself." says Neil Patel, the co-founder of Crazy Egg, Hello Bar and KISSmetrics.
To say nothing of how GA4 will require marketers to adapt their whole strategies to fit into a brand new model.
"GA4 isn't so much an update, but an entirely new way of doing analytics – set up to scale for the future, work in a cookieless world, and be a lot more privacy-conscious," explains Krista Seiden, founder of KS digital and one of the people behind GA4.
Why Is It Time to Change?
The world of data privacy is changing, but Google Analytics isn't keeping up with it.
Despite bold claims of it being the next generation of analytics, GA4 is still working towards a fully privacy-focused model when 100% GDPR compliant, 100% cookieless alternatives already exist.
Claims such as "the future is likely cookieless" or "set up to scale for the future" indicate that GA is still on its way to data safety, but it's not quite there yet. Google still transfer's data to the United States and as such is not GDPR compliant.
If you want to reach the final destination GA4 is headed to, you might want to try a different analytics platform altogether.
Why Do We No Longer Recommend Google Analytics?
Here at SixFive, we're no longer recommending GA to our clients for the following reasons:
There's a Steep Learning Curve Ahead
GA4 is complex to configure (arguably more complex that Universal Analytics). So if you had trouble warming up to UA, brace yourself.
Many of us relied on UA for all data-driven marketing efforts. And, because our data is now measured and processed differently, GA in general becomes less functional and more confusing. Even for the seasoned folks.
Yes, perhaps we just need time to wrap our heads around this new model – the same way we're doing with AI and new technologies that are bubbling up. But we still have the right to be mad. ​​​​​​​​​​​​​​
GA4 Is Yet to Have Everything UA Used to Offer
In terms of features, the new platform leaves a lot to be desired. If (and that's a big "if") there are feature matches, they're just not the same. It's not uncommon for users to have trouble adapting.
Because GA4 is a completely new platform, it offers plenty of features that Universal Analytics doesn't have. The most widely-mentioned feature is the infamous event-based tracking. The measurement models formerly known as "sessions" and "pageviews" in UA will now be translated into "events."
GA4 reports also dismiss bounce rates as a metric. Instead, Google's focus is on users' engagement rate, which is the opposite of bounce rate. ​​
However, some things remained the same. Just like Universal Analytics, GA4 will be completely free to use. And that's not as great as it may sound. (More on that later.)
Not to mention, the interface is pretty similar. If you're comfortable navigating a UA account, you shouldn't have trouble using GA4.
The big issue with GA4 are its complicated reports. If you're not willing to learn the ropes around the BigQuery platform to analyse your data, you might want to rethink Google Analytics.
GA 4 Is NOT GDPR-Compliant (Essential If You Have EU Visitors)
While lots of analytics platforms claim to be compliant to the General Data Protection Regulation (GDPR), most of them are still risking your website visitors' safety.
GA4 is one of them. According to the Austrian Data Protection Authority, the continuous use of Google Analytics violates the GDPR. Essentially, it's illegal.
If you're a company in the EU, the way you process your visitors' data matters for legal compliance. ​​​​​​​Even if you're a company outside the EU, you might still have visitors from the EU who still require that compliance. Unless you want to risk breaching the GDPR and lose a chunk of your revenue.
As you've likely heard, GA4 will no longer be storing IP addresses. Doesn't that protect users' data?
​​​​​​​Not really. Because the problem is in the cookies and data transfer.
What allows GA4 to track its data in a more "acceptable" way are first-party cookies.
Contrary to third-party cookies, the former are collected and directly stored by the website visited and only website owners can access them. Yet, those cookies still track and store users' personal data and information.
Google also transfers data into the USA which at the time of writing is not acceptable to the EU.
SEO and Digital Marketing Experts Didn't Take the News Lightly
"I mean, to not be able to look back at the analytics on my site from 5, 10, 15+ years ago, that is just so sad. I hope they keep some sort of legacy view to access this historical data or at least show it in GA 4," says Barry Schwartz, the CEO of RustyBrick and founder of the Search Engine Roundtable.
A few honourable tweets from marketers and SEOs feature in Search Engine Roundtable include:
"This is terrible, horrible news." – Yehoshua Coren, founder of Analytics Ninja
"Kill me Now." – Joy Hawkins, Google My Business Product Expert.​​​​
"No no no no no no noooooooooooooooooooooooo NO! God. NO.​​​​" – Mordy Oberstein, Head of SEO Branding at Wix​​​​​​​​​​​​​​
It's no wonder 30% of surveyed GA users are moving en masse to a different analytics platform.
Your Data Essentially Belongs to Google
It's a free product with lots of features digital marketers would pay good money for. So, what's the catch?
As the saying goes: if it's free, you are the product. We aren't comfortable with this, and neither should you be. You're essentially selling the ownership of your data and your users' data. Google profits from your data to drive their advertising and search engines.
GA4 Stores Your Data for 14 Months…Then Deletes It
Analytics Help says: "For Google Analytics 4 properties (non Analytics 360 version), retention of user-level data, including conversions, can be set to a maximum of 14 months."
After 14 months, that data will be gone, and you won't be able to view user analytics before that period. For Universal Analytics properties, you could lose that data in 14 months – even if you decide to set a larger retention time frame later on.
As Google said, "For example, data collected when 14 months was in effect will still be deleted 14 months after it was collected even if you change the retention period to 26 months."
If, like Barry Schwartz, you want to be able to look back at your data from years ago, you won't be able to.
​​​​​​​GA4 Samples Your Data ​​​​​​​​​​​​​​
Once again, according to Analytics Help, "When you look at an exploration or funnel report that has a large amount of data, some of your data might be sampled."
This means: you may not get real or accurate data in your reports.
Sampling is the practice of analysing a batch of all your data. This way, it's possible to uncover patterns in a larger data set without going through 100% of that data.
As a result, data sampling may provide less accurate reports, potentially omitting crucial insights that could impact your business.
Addressing and adjusting GA's data sampling to see more of your data is still possible. In our opinion, however, you shouldn't be required to do this.
Despite That, You Still Need Analytics
​​​​​​​​​​​​You need analytics for a number of reasons:
For targeted marketing efforts
To understand your conversions
To understand ROI on advertising and SEO
To learn about user behaviour
To make sure your content and pages are appealing to visitors​​​​​​​
Sticking with GA4 means that your users must accept the dreaded cookie consent, which only 30% of users say they always accept. Therefore, you could be losing 50% or more of data that's important to you. And, as a result, you could be wasting time and resources in inaccurate marketing efforts.
So, is there a way to gather that analytics data without needing a cookie popup or consent tool?
Yes, there is. But this is only possible if the analytics are 100% GDPR Compliant – which GA4 is not.
All That Said, Can You Still Switch to GA4?
Sure you can! By the way, Google is trying to make switching easier by providing lots of prompts and ways to help you migrate your data. After all, they want (and need) your data.
If you Google "how to migrate from Universal Analytics to GA4," you'll find plenty of helpful articles. But the process can be so complex that companies have built entire product lines (and even businesses!) around migrating GA properties.
Consultants are charging anywhere from $300 to $7000, depending on complexity of your data and your number of assets.
What's Next for Analytics?
Getting the data you need should be fast, easy, and it shouldn't compromise your visitors and customers in any way. Remember: they're the ones who keep your business thriving.
Despite its popularity, Google Analytics is far from the best option out there, privacy-wise. Tools like Fathom Analytics are already doing what GA4 is still dancing around: providing full GDPR compliance with no cookies in sight.
What is Fathom Analytics?
Fathom is a Google Analytics alternative that helps you understand your website visitors without spying on them. It doesn't compromise visitor privacy for data, and makes analytics a breeze to use while respecting mandatory privacy laws.
It can be installed on nearly any website or application with a single line of javascript code. If you'd prefer, you can quickly download Fathom's WordPress Plugin.
With Fathom, you get a range of privacy-focused features, which include:
EU isolation: Built in collaboration with EU legal experts, this feature ensures your EU traffic is entirely processed on their EU servers.
No cookie banners: You read that right. Thanks to its full GDPR compliance, Fathom anonymises user data. Therefore, your site won't need an annoying cookie banner to safely collect data.
​​​​​​​​​​​​​​​​​​​Import all of your GA data: Fathom's Google Analytics Importer (UA + GA4) is now available. You can import your data even if you aren't an existing customer: sign up (and get $10 credit towards your first month) and start importing.
Does it do everything? Nope – and that's exactly the point. It's far simpler, yet still far better than GA on so many levels.
Can I Try It?
Yes! To test drive some of Fathom's capabilities, check out fathomconversions.com.
We also created a plugin to make it easy to add custom events to Fathom without coding. Because we know full well that coding isn't for everyone!
You can even have a play with Fathom and its analytics right here to see its current functionality.
How Do I Get Fathom Analytics?
We're now providing Fathom Analytics to our WordPress Care Plan customers wherever they want it. Several of SixFive's customers have already made the switch and turned off Google Analytics for good.Not on our Care Plans? No worries! You can sign up for Fathom yourself here for just $14/month (and get $10 credit by using this link! 😉)