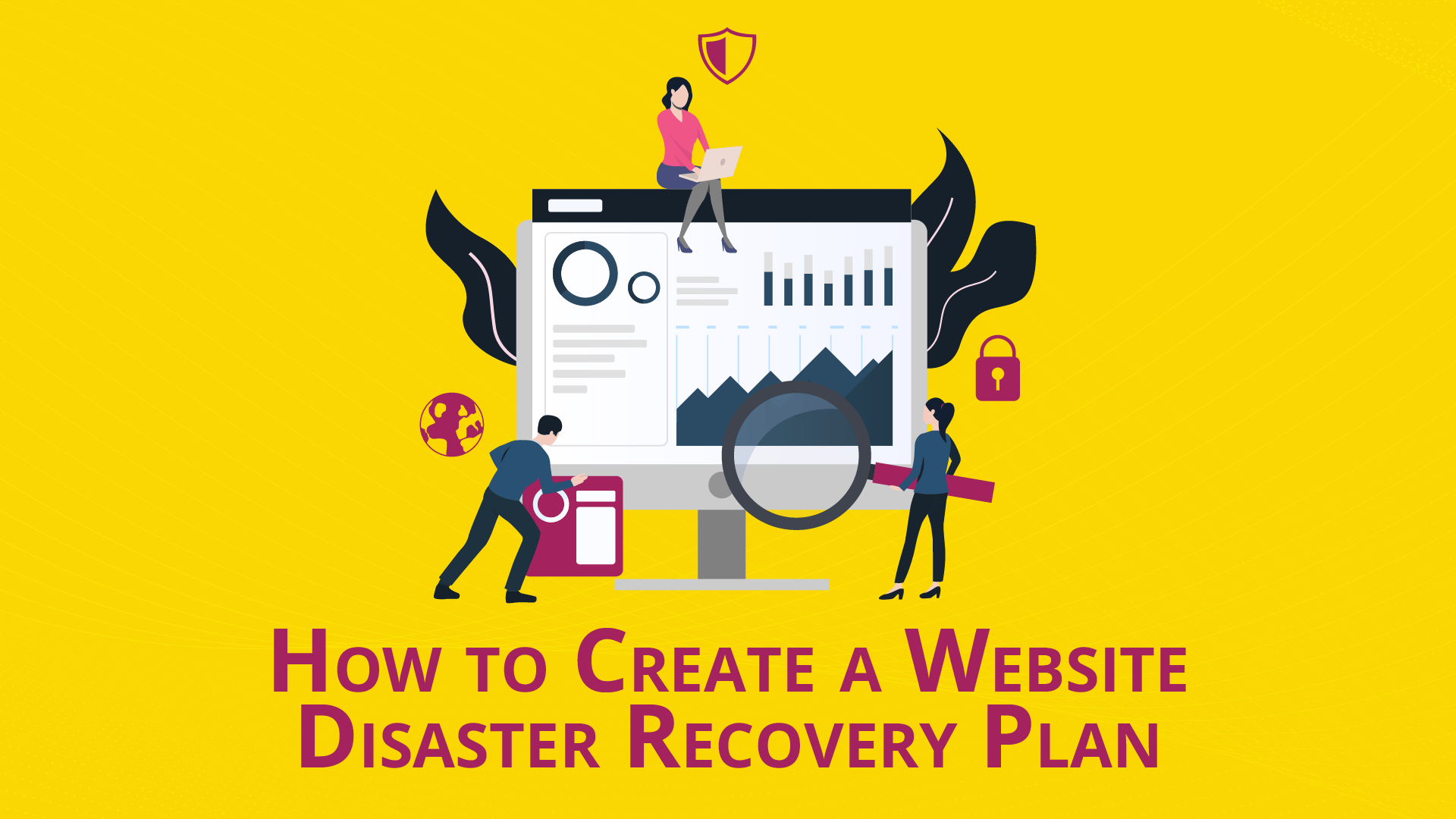 Last updated: May 1, 2023
It may sound harsh, but a disaster could happen to your website at any given moment, regardless of how prepared you think your assets are. A recovery plan can mitigate the consequences of such disasters, keeping your data and uptime intact.
While most business owners are aware of the importance of a recovery plan, they may still choose to revisit the situation at "another time." Until the worst happens, and the only alternative is to deal with the inevitable costly damage.
Whether they show up as an error page or as the "white screen of death," website disasters usually happen for two main reasons:
Hackers have broken into your server and caused your website to stop working
Your website hosting platform has made changes to their own server, which caused your (and other hosted websites) to shut down temporarily
If you don't currently have a website recovery plan in place, you should. It's a vital step in keeping your website safe, responsive, and updated. Let's take a look at a few essential steps you can take, starting today.
How to Create a Website Disaster Recovery Plan
Never Forget Backups
Backups are one of those updates we click "remind me later" whenever possible. But it's also one of the things we only value once they're gone.
When your site gets hacked, breaks after an update, or when you accidentally delete a critical yet irrecoverable file, a lack of backups will come back to bite you. So they shouldn't be skipped or left to chance.
Without a backup, you could be looking at having to rebuild your website from scratch. Think of a desperate writer having to write their full manuscript all over again. Plus, the longer you've had your website, the more time and money you've invested in it. So don't make the rookie mistake of letting a disaster ruin years of work and investment in a single click.
Having no time or forgetting to backup your website is a valid, yet overused excuse at this point. SixFive Managed WordPress Hosting backs up your site hourly, on server, and daily offsite. We keep these backups for up to 60 days, so recovery is quick and easy if (and only if!) something goes wrong.
Finally, here's a common mistake to avoid: using a plugin to manage your backups. Plugins rely on WordPress and your entire site to be error free. If you slack off with your updates or an error is introduced into your site your backups will stop working. Make sure your website host is providing backups so you don't have to worry.
Invest in Regular Website Maintenance
If you keep your website regularly maintained, you'll have a much higher chance of spotting and fixing small issues before they become a bigger problem. Besides, you'll keep your website running at its best.
For instance, on a weekly basis, you should conduct:
Security checks
Broken link checks
404 error checks
Core plugin updates
Form checks (to ensure all forms are working properly)
Loading speed checks
These are pretty straightforward tests, but they can stack up in a to-do list – especially for busy entrepreneurs. Besides, maintenance checks should be carried out on a weekly, monthly, quarterly, and yearly basis.
That's why growing businesses should have a professional maintain and perform security updates to the website.
SixFive's WordPress Care Plans will make sure your site is secure, hacker free and runs well all day, every day. We'll keep things ticking along on your website with regular service, just like a Tesla.
Update Your Content Regularly
Your repeat visitors and raving fans appreciate fresh content. While you don't have to update your website content on a daily basis, you'll benefit from doing it at least weekly or fortnightly.
If that wasn't enough to convince you, updating your content is proven to boost Search Engine Optimisation (SEO). The more up-to-date your website is, the quicker Google will understand that you're delivering relevant content to your audience. And therefore, that your site is worth ranking.
After you've backed up your website, you should have a plan in place for any necessary content updates to be performed.
Monitor Your Uptime
Although you can't stay on your computer 24/7 to check your website's performance, you can set up monitoring for your website to ensure it's online and working properly.
Services such as Uptime Robot will let you set up a free monitor that checks your website every 5 minutes. If the service detects downtime, it will immediately send you an email so you can review any issues as required.
By the way, we also include 24/7 Uptime Monitoring in our WordPress Care Plans and provide you with a monthly report for analysis.
Conduct Password Audits
Passwords are left on the back burner quite often. And while we receive the occasional reminder to strengthen our passwords, it's important to carry out a regular password audit every 2 to 3 months.
Verify that you're only using strong passwords for your website. Because stronger passwords are harder to keep top of mind, it's recommended to store them in a secure password manager. Ideally, a GDPR compliant one.
You can use tools like BitWarden to generate complex passwords, while helping you manage all of your existing passwords in a single place. The tool is compliant with GDPR, SOC 2, HIPAA, Privacy Shield, and CCPA standards.​​​​​​​
Keep Contact Details Handy
Ideally, you should make a note of the contact details for any companies involved in hosting or managing your website. You'll want to at least keep note of your hosting company, domain provider and email provider.
Having these details handy will help you get in touch with the experts on time and respond to a disaster more effectively.
SixFive provides you with a document called the Website Owners Manual, which details who's responsible for different aspects of your website. So that you know exactly who to call whenever something happens.
Prevent Google From Deranking Your Site
A website disaster is never your fault. It could've been a slip, but never your fault. And Google only understands that if you spell it out.
You can let Google know that something went wrong and that you're dealing with some unforeseen website management. Do that by creating a 503 Service Unavailable status code. This way, you can avoid losing rankings by telling Google to only crawl your site when it's back up. But make it quick!
"What if I Don't Have Time for All That?"
Yep, that's a lot to keep track of. If creating a recovery plan sounds more disastrous than the disaster itself, you should consider our WordPress Care Plans. We'll do all of the work for you, from monitoring your website 24/7, to updating features whenever you need us to, to keeping watch on your code. And much more.
In short: choose a plan that works for you, and you won't have to do anything we've mentioned in this post.