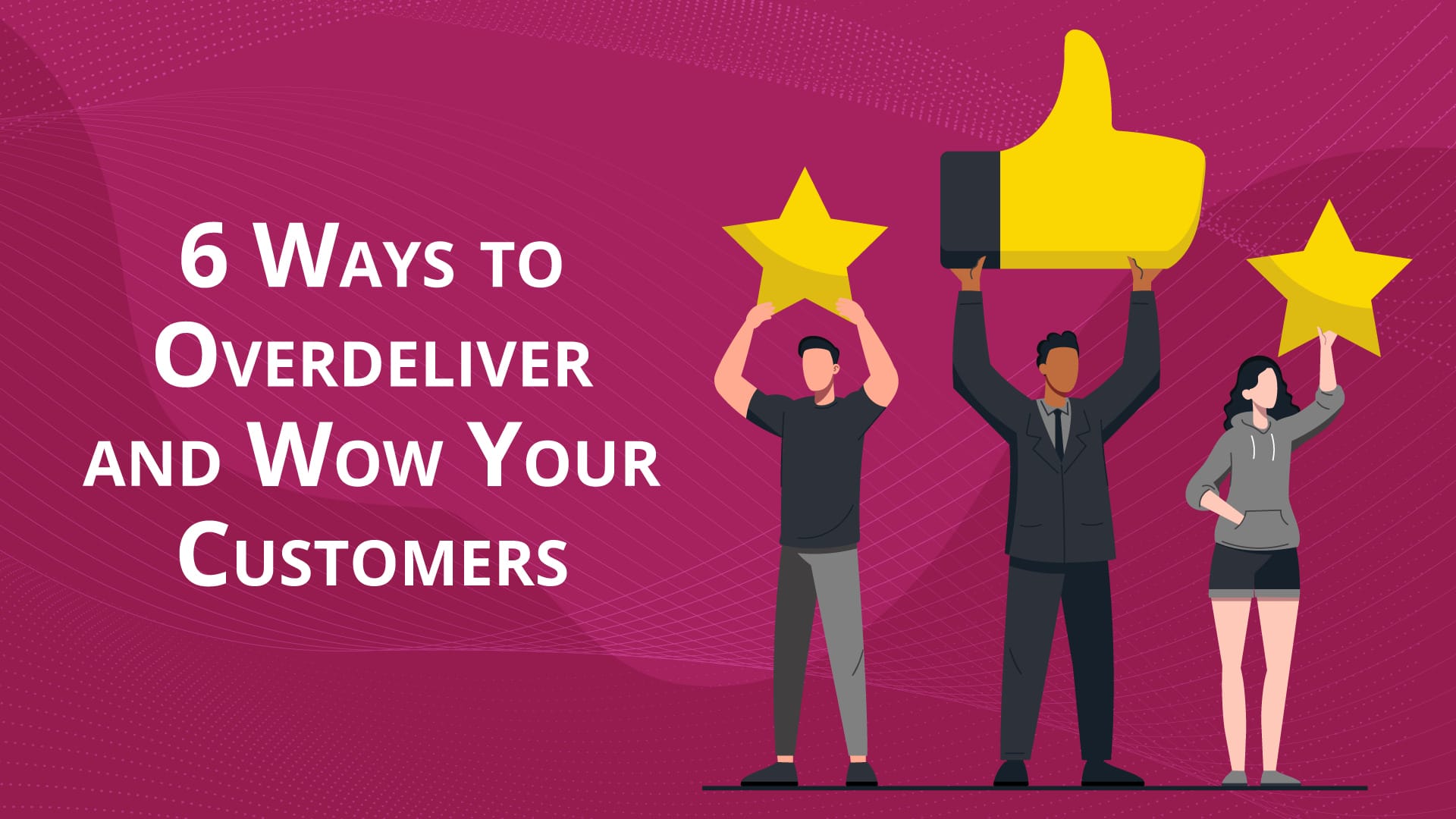 Last updated: March 27, 2023
Customers have dealt with enough businesses of every niche to know exactly what they expect…as well as what they can't stand anymore.
In short, customers won't settle for less than exceptional service. In fact 96% of customers would leave your business if you deliver a bad experience.
This is your chance to do the polar opposite and overdeliver. Go the extra mile to provide value to a customer. Stand out. Wow them.
In this article, we'll share a few ways you can start overdelivering to your customers right away.
Be Responsive
Talking to customers with the sole purpose of selling to them is a red flag. This will only reinforce their idea that "companies don't care about us – they're just trying to get us to buy."
You can counter that by responding to all of your messages, even if they don't appear urgent. Not only that, but try to reply to customers in a timely manner. After all, faster response times
are their number-one priority when it comes to effective customer service.
By the way…was your response even helpful? According to Forbes, 97% of companies don't know the answer because they don't follow up with customers. This is yet another chance for you to differentiate your business and wow your customers.
As an extra tip, survey your customers to find out which contact channels they prefer. Website forms? Email? Good old phone calls? Would they be okay with chatbots or would they prefer to be contacted by a human, instead?
​​​​​​​​​​​​​​​​​​​​​​​​​​​​​​​​​​​​​​​​​​​​​​​​​​​​​​​​​​​​​​​​​​​​​​​​​​​​​​​​​​​​​​​​​​​​​​​​​​​​​​​​​​​​​​​​​​​​​​​​​​​​​​​​​​​​​​​​​​​​​​​​​​​​​​​​​​​​​​​​​​​​​​​​​​​​​​​​​​​​​​​​​​​​​​​​​​The more you know about your customers, the better you can serve them.
Provide a Great Experience
A Hubspot survey revealed a few reasons why customers were impressed with an experience.
69% of respondents said that the service team was "quick to respond"
38% said that their customer experience was great because "the problem was solved"
The other 28% of respondents were satisfied because the service rep "listened to and understood their needs."
In essence, an effective customer experience checks three boxes: agility, problem-solving, and empathy.
Remind yourself that customers are getting in touch with you for a reason. They have pressing issues (regarding your solution!) that they need solved as fast as possible. Ideally by a polite, empathetic human.
Fail to meet their expectations, and you can lose customers – thanks to a negative ripple effect that could tarnish your company's reputation and revenue.
If you want to take the weight off your customer service representatives, it may be time to spruce up your FAQ pages.
Go the Extra Mile
Going the extra mile doesn't need to be a grand gesture. It could mean just adding something extra. A little bit of oomph. You know, something simple, like adding a small free gift in with an order.
Here are a few steps you can take to exceed your customers' expectations:
Conduct regular customer research and competitive research
Offer personalised experiences by knowing what your customers want and need
If you make a mistake, apologise, take responsibility for it, and compensate it
Memorise their names and past conversations
Again, be responsive and timely
Thank them for their business
Offer customer loyalty discounts
Send cards and handwritten notes with their order
If you try just a little harder to do more than what customers already expect of businesses like yours, you've already got a leg up.
Keep In Touch
Imagine taking someone's money and disappearing. This is essentially what you're doing when you don't keep in touch with customers after a sale.
According to digital product distribution platform Hotmart, "providing after-sales service shows your value to your customers, and encourages them to buy from your business again."
Plus, maintaining a good relationship with existing customers after a sale makes it much easier to sell to them again. In the words of author and marketer Phillip Kotler, "acquiring a new customer costs more than building loyalty among those who already know the brand."
That's why you should keep tabs on your customers' experience with the product. Are they satisfied? Do they need any help? If they're transitioning from another product, how can you make the process as smooth as possible?
As an example, you can send them an email a few days after their purchase with tips to better use their product. Also, let them know you're there to answer any questions they might have. Show them you care!
Don't Only Go Through Feedback. Grow Through It
Anyone can collect and listen to feedback. But acting on this feedback will help any business stand out from the crowd.
"You and your employees must remember to listen to customer complaints and make sure you really hear what customers are saying," says CEO of GrowBiz Media Rieva Lesonsky.
The only way to identify and correct business mistakes is to listen and implement. By listening to customer feedback, you might uncover issues that require immediate change. And by implementing the necessary changes, you'll greatly improve your customer experience.
And Finally, Put Yourself in Your Customers' Shoes
Customers are becoming more and more demanding. Put on your customer hat for a second, and you'll realise how true that is.
What do you expect from customer service? In your opinion, what makes a high-quality experience? How could businesses go the extra mile to serve you?
The answers may be just what you need to start overdelivering to your own customers.