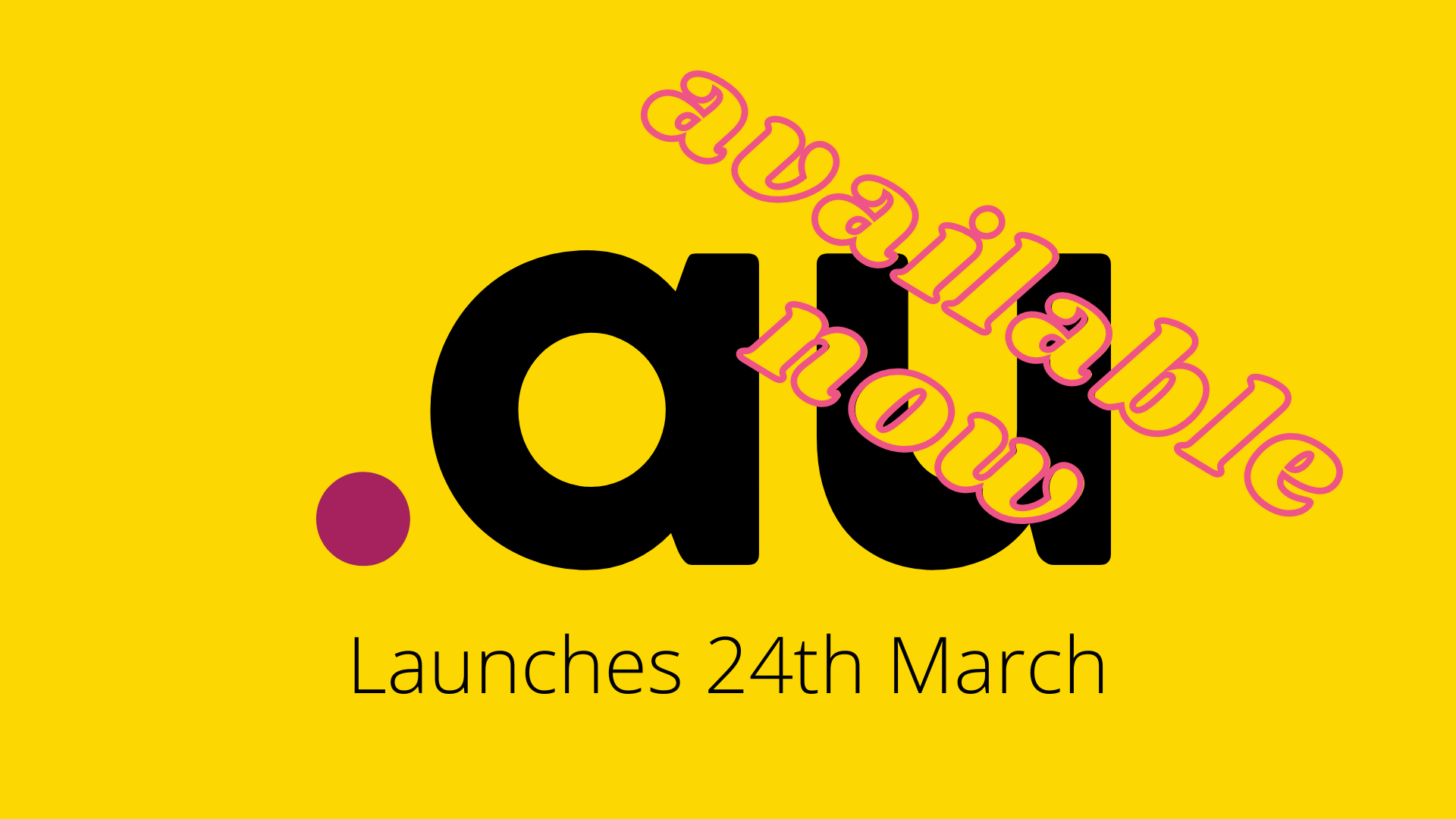 Last updated: March 29, 2022
 UPDATED 24th March 2022 1PM AEST
.au is an all-new direct domain name extension for the Australian domain namespace. It will allow any business, organisation or individual with a connection to Australia the ability to register a .au direct domain name, like mybusiness.au.
Here are a few reasons why you would consider snapping up your au domain.
Memorable
.au direct domain name will allow businesses to register a shorter and more memorable domain name by removing the second level (e.g. com). AU is a quick and snappy way to end any URL, and it will provide more opportunities for any business to create a domain name that customers can recall from memory.
Easy
.au domains end a web address with just three characters, making it the easiest Australian domain name to use. Not only does .au provide a more effortless experience when typing in the address bar, but displaying a .au domain looks short and sharp in all mediums, print and digital.
Brand protection
If you already own the com/net/org equivalent you will be able to have priority on the .au version (more on that below) and this will give you some brand protection across the au namespace.
It's Australian
Taking the .com out is just Australian, in the same way we shorten everything else! It also starts to match up with global domains such as .com, .net, .org, .asn, and .uk. It's a short, simple, all-Australian domain extension that couldn't be more Aussie if it tried.
Priority Allocation
To help existing registrants of au domains, in the six month period 24 March to 20 September 2022  AuDA (the domain administrators) have set up a Priority Allocation Process. If you already own the equivalent .com.au/.net.au or .org.au you will be allowed to register the .au version of that domain. You will receive the ability to register the equivalent as long as it is uncontested. Contested domains happen where two different parties own a com.au and a net.au separately and both want to purchase the .au.
To check eligibility use the AuDA priority status tool until 20 September 2022.
Can I buy a new .au domain today?
If you do not yet have the equivalent .com.au/.net.au or .org.au, then no, you cannot register a new .au domain until September 22nd 2022 when all domains will become available for registration to the public, as long as you have a connection to Australia.
How to register your .au domain
When this process opens you will need to complete these steps:
Check your eligibility on the AuDA priority status tool, if contested then follow the instructions.
Get your Priority ID token from https://priority.auda.org.au/
Open the email and click the link to view your "Priority contact ID" and "Priority authInfo"
Head to our domain registration page to secure your .au domain
If your domain is contested, please reach out to us and we'll help you out.
Please note that due to a bug in the AuDA system during the implementation of .au, domains will not be live immediately as they cannot attach nameservers via the normal system, and have to do them manually. Hopefully, this issue will be fixed within a week.