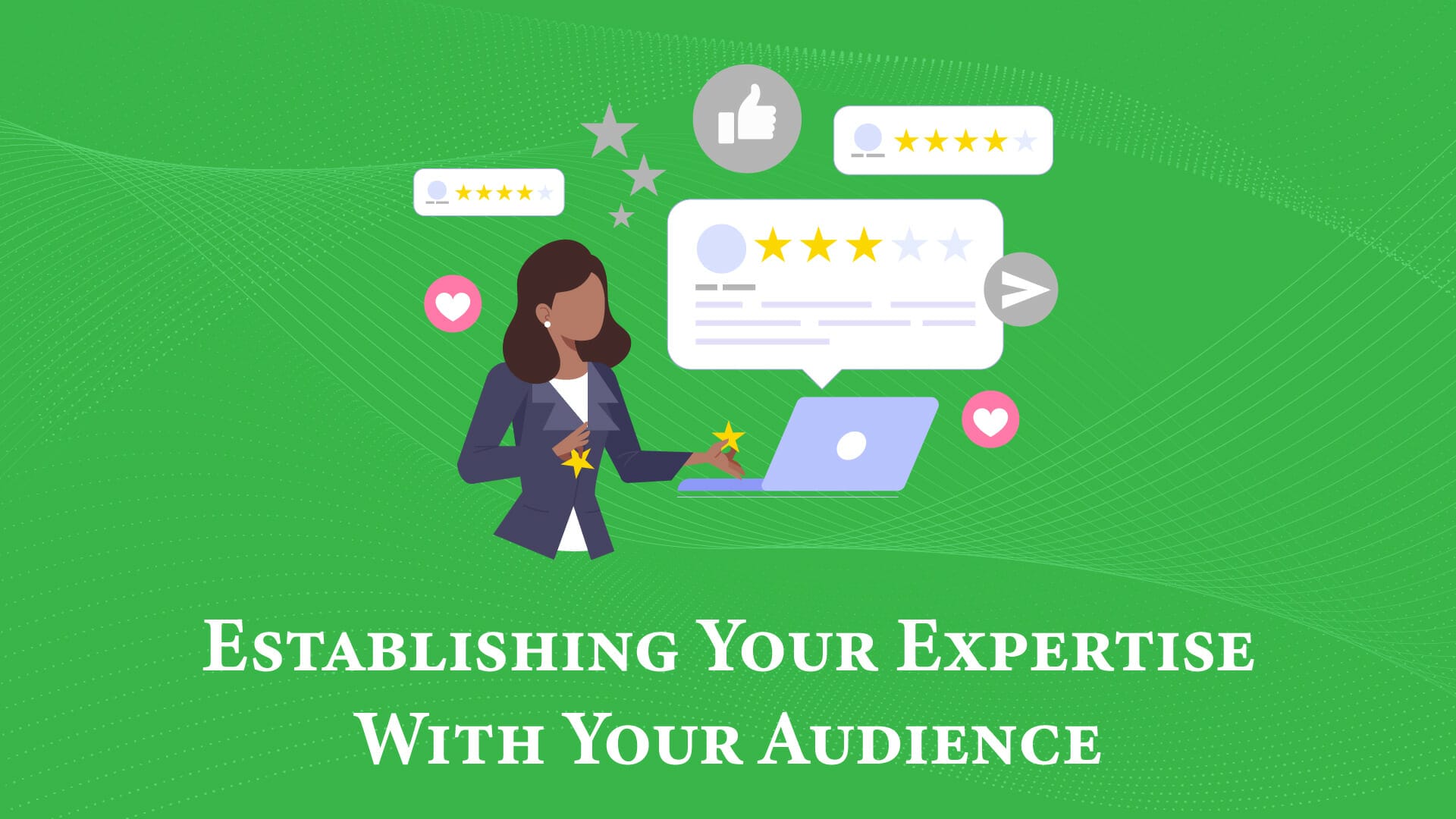 Last updated: March 1, 2022
Trust is scarce for most people these days, and rightfully so. With so many so-called experts and professionals, it can be hard to know who the real experts are.
Every business out there wants to be taken seriously. They want to convey that they know what they're doing and that they have the expertise to deliver a great service or provide a quality product. With that in mind, there's a foolproof way to know whether someone is worth your time: their online content.
Imagine if Bill the electrician said he could replace all the lights in your house. Cool, let's see if this guy is trustworthy. Trouble is, on his website, there's no evidence to suggest he knows what he's doing. He doesn't have any blog posts, no videos, nothing.
However, if Bill had a blog post about all the different kinds of lights that are suitable for each fixture, his customers would feel a lot more relaxed about him working on their beloved kitchen spotlights.
Customers go around looking for proof of expertise all the time, as they should. A lot of the time, they're doing it subconsciously. For this reason, it's so important that you establish yourself as a trusted expert through the content you create.
How can you  show that you're an expert in your field, and that a new user on your website can trust your work? I'm going to talk you through some types of content you can start creating right away.
Blog Posts and Guides
Blog posts are a fantastic way to share your knowledge with your customers. Not only can you deliver a more detailed explanation on a variety of topics, but you can also provide them with helpful tips they can take immediately after reading. The next time they run into a problem, you'll be the one they'll remember.
Another great tip is to write evergreen guides. These are long-form articles that go in-depth about a certain topic. The best thing about this type of content is that, because they're evergreen, you only need to truly "write" them once.
For instance: Bill the electrician could write (or hire someone to write) a big guide named "Ultimate Lighting Guide: How to Pick the Right Fixtures For Every Single Room" and update it as the years go by. This way, he'll have a large, keyword-filled, updated, and valuable piece of content every year.
Email Marketing
There's a reason why email marketing is still hot after so many years. Not only do people prefer to receive promotional content via email, but email is a platform that offers a greater level of brand-to-lead or brand-to-customer connection. Subscribers have deliberately chosen to be part of an email list, where they can expect to receive personalised offers based on their browsing activity. That is, of course, if the brand has a trigger email campaign in place – which is highly recommended if you want to boost open and conversion rates.
Especially if you're just getting started, you really can't go wrong with a regular email newsletter. When a potential customer subscribes to you, that opens a window of opportunity for them to build a relationship with your brand. Throughout your emails you can share tips, information and encourage meaningful conversation.
Social Media
Be honest: would you trust a business that doesn't showcase their products or services on social media? You probably would, if you knew the owners in person. But you'd still be suspicious. You're so used to seeing brands being all out on social media, this would probably make you wonder why that business isn't keeping up with the times.
Social media is the perfect place to establish your expertise while displaying your brand's personality. You can use it to interact with your followers, share helpful content, answer any questions your customers might have, or point them towards your helpful blog posts. See how it all comes together?
Your prospective customers are definitely among the 3.96 billion social media users. Make sure you show up for them, however do not rely solely on social media because the platforms change their rules all the time and that has a high chance of negatively affecting your content performance.
Podcasts
If you have the time to run a podcast, you have a golden opportunity to establish yourself as the trusted expert in your industry. Podcasts allow you to go into much more audible detail about certain topics, help you share more of your personality, and deliver content in an easy-to-digest format.
Not to mention, podcasts allow listeners to create a connection with the speaker. We listen to podcasts when doing daily tasks, looking for entertainment, or searching for reliable yet laid-back sources of information. If people have chosen to listen to your podcast during their free time, you can bet they'll remember your brand – and your voice –  when they need a product you offer.
Videos
There's a reason why consumers love to learn more about products through videos.
Just like podcasts, videos are easy to consume. They get bonus points for their visual stimulation, which a lot of people prefer over simply listening to someone speak. You know, it can be great to connect a voice to a face, and connect a face to a brand.
Consider creating short,  helpful videos for your customers to watch. Tutorial videos, AKA "how-to" videos have made it to 2021's top three most-watched types of video, standing just behind product reviews.
The videos you create can be repurposed as social media posts, or helpful responses to FAQ's. And if you're not camera shy, your audience can get to know you more. With a face to a name, they're far more inclined to trust you. We post regularly on YouTube SixFive channel for these reasons, it not only builds our brand, but allows us to answer the common questions that our clients have.
Guest Appearances
Another fantastic way of showcasing your expertise is to be a guest on another brand's podcast or to author a guest post. The more you show your face around in your industry, the more people will remember you.
However, in order to be a guest in a show or podcast, you'll need to be somewhat known for the work you do. You don't have to be an industry celebrity by any means, but you also shouldn't wait for people to come to you. It's essential that you follow people in your industry and network with them. Encourage people to share your content, as well as comment and like your posts.
This may sound difficult, particularly to those who aren't used to putting their work out there. But trust me: the more expertise you show, the higher your authority will be in your audience's minds.
Wrapping Up
You might be thinking: "Who has time for all that? I still have to create content on top of working my normal job?!"
At first glance, it all seems like a lot to think about. But in reality, it's not.
Truth is, you don't have to have thousands of ideas to create isolated pieces of content all the time. Gladly, the content you create can be repurposed. Here's what I mean by that.
For example, you could use the key takeaways of a blog post and repurpose them into a quick how-to video or a checklist. Or, you could take the content of a blog post and create a podcast episode based on it. It's the same content – only, it's been repurposed for a different segment of your audience, who would rather listen to your content over reading it.
Finally, you could go "Well, I have no time to keep posting content, either." The good news is, you could always hire someone to do that work for you. It'll give you time to focus on your job whilst delivering great content to your audience.
Great content is something you can no longer afford not to create. After all, establishing your expertise depends on it.