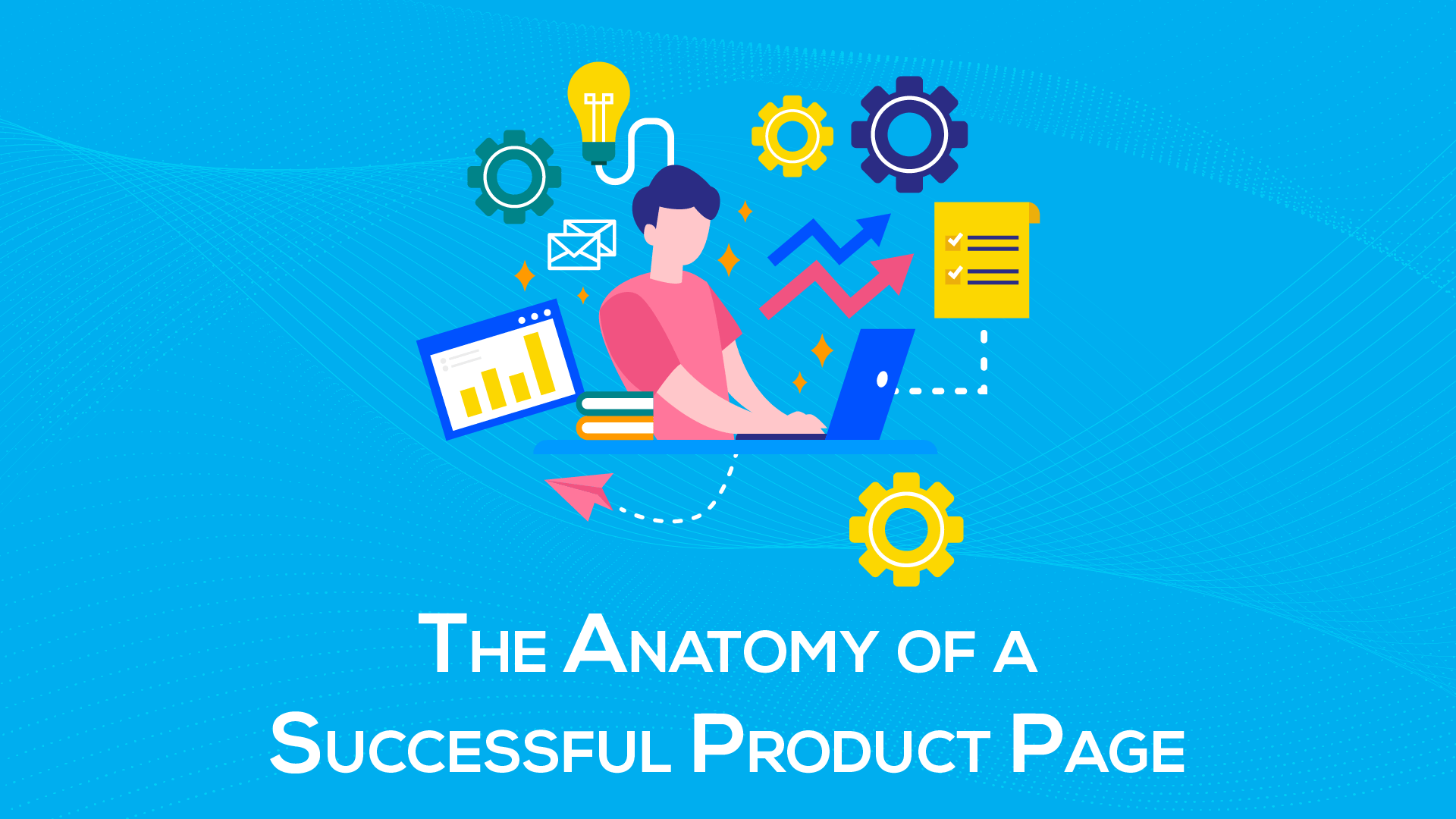 Last updated: February 22, 2022
When shopping online, what makes you want to add a product to your cart? Is it a high-quality product image? A detailed product description? A persuasive review? Or is it a combination of those elements? Let's find out.
We all go on online shopping sprees from time to time, and each of us knows exactly when the interaction with a product page becomes ineffective. Maybe the product description wasn't as convincing as it should be. Maybe there were more bad reviews than good ones.
Whatever those small details are, we usually go through them on autopilot, not really thinking about what puts us off. But trust us: the product page plays a significant role in your decision-making process.
The Anatomy of a High-Converting Product Page
Every product owner needs a high-quality product page and deep customer knowledge if they want to sell anything at all. 
First things first: the product page you write should be aimed at convincing your ideal prospect to take your offer right now. You're not trying to convince just anyone to buy – you're trying to convince your target audience. Someone who doesn't need your product or doesn't believe it can make a change in their lives won't add it to cart. Not even if you create an award-winning product page.
That doesn't mean you should throw a generic product photo at a page, draft a quick description, and call it a day. Which, let's be honest, is the case with many product pages we come across when shopping online.
Instead, a high-converting product page should:
Enhance the user experience.
Be presented in a value-packed, persuasive manner.
Immediately provide potential buyers with full details about a product.
Remove obstacles and anxieties associated with the purchase.
Make the buying process effortless.
If it's presented persuasively, in a way that enhances the user experience while removing obstacles to purchase, you've created a product page with great selling potential. 
Whether you're planning your next product page or want to tweak an existing one, be sure to include and work on the following elements:
A Comprehensive Product Title
You must give people a reason to keep reading. Although titles shouldn't be a paragraph long, they should include all of the most important attributes of the product so visitors know that they've landed on the right page. The keywords in your title should include:
Your brand and product name (typically front-loaded)
Any essential features
The make and model
Sizing
Colour/flavour/aroma/texture
Here's an example from a gaming office chair on Amazon: "AutoFull Gaming Office Desk Ergonomic Lumbar Support, Racing Style PU Leather PC High Back Adjustable Swivel Task Chair with Footrest,Black, Standard"
People who are looking for a gaming chair that offers lumbar support and footrest would be hyped to check this product out. From the title alone, visitors know that it's adjustable, made out of leather, and that it's suitable for those with a bad back.
Ideally, you'd match your product title to what people are searching when browsing products like yours. For this step, you might want to do some Search Engine Optimisation (SEO) keyword research. This way, you'll know which terms people use to search for your product and competitors' products.
High-Quality Product Images
If possible, invest in professional product shots. That's because potential customers will want to have the experience of looking at the product as they would in real life.
They'll want to zoom in, rotate, and actually see if the product is worth buying based on how it looks. If you offer a poor product image and they have to go out of their way to ask you for a product shot, they'll just look for another seller.
We don't often think about it, but we're buying products online without knowing what they feel like, look like, or smell like. That's what makes the trust factor so essential, and that's why images, videos, and descriptions need to double down on the effort.
High-Quality Product Videos
For some visitors, images aren't enough. They want to see the product being used. They want to see a human hold it, turn it, and show them how it works. This is the case with higher-ticket items, which people are even more skeptical about buying.
Including high-quality product videos to your page works by showing potential customers that the product actually exists, and that it looks and works exactly as you've described. People are afraid of being scammed or receiving something different from what they've ordered, so show them that you're legitimate. Whenever possible, add a video!
Noticeable Calls-To Action (CTAs)
Because CTAs are "just buttons", many business owners will assume potential buyers know exactly what to do. They'll assume people will see a "Buy Now" button among a bunch of texts, ads, imagery, and dozens of other buttons.
If you want to increase your conversion rates, you need to make your CTAs stand out. You need to make them a contrasting colour. Because so many businesses want to stick to their brand personality in product pages, CTAs end up being the same colour of other page elements. Don't assume people know which buttons are links, and make it painfully easy for them to click important buttons.
Size Guides
If you're selling clothing or shoes or any wearable items, potential buyers want to know which exact size will fit them. They don't want to open another page just to look that up, as it takes extra effort on their part. Plus, they don't want to risk ordering the wrong size, having to return the product, and the whole shebang.
Not to mention, they could find a size guide on a different website…and buy from them, instead.
As an empathetic business owner, you can and should prevent that. Even if your product images include models and comparisons, be sure to include size guides, anyway. Something as seemingly simple as a guide can prevent you from losing potential customers to the competition.
Persuasive Product Descriptions
You've hopefully hooked your prospects' attention with your title. Now, it's time to let the description do the heavy-lifting.
Will a manufacturer's description do the job? Definitely not. Product descriptions need to be fully written for each product you're selling. They should zoom in on both the features and benefits of your product, and how the product in question will make customers' lives better post-purchase. Why should they want this product? Where do they stand right now, and where will they be once it arrives?
You can use bullet points to make your description more readable. Just make sure to include all of the important details a prospect needs to move forward. Is your customer service outstanding? Do you offer a money-back guarantee? Don't forget to mention those factors!
Even if you've already included make and model numbers, SKU, sizing, colours, and all of that information on your product title, make sure to double down on your description. This is important to reinforce certain terms from an SEO perspective.
Product Reviews
Your product reviews will do a great job of writing extra sales copy for you.
That's where satisfied (or unsatisfied) buyers will share their opinions, ranging from the product to customer service. If your description hasn't done enough to convince a skeptical prospect, honest product reviews can be the decisive factor. Those are hopefully real people talking about real experiences, which is a huge bonus when it comes to increasing trust.
It's important for you to not delete bad reviews. If a product only includes 5-star reviews, this can raise a few red flags pretty quickly. As hard as it can be to receive a bad review, you can learn a lot from them. Plus, they're essential to show authenticity throughout the buyer's journey.
Frequently Asked Questions (FAQs)
Some visitors are put off by having to ask questions and wait for the answer. For some of them, nothing is more unsettling than the words "contact vendor" and any variations thereof. As a business owner, you should assume they'll have several questions, particularly when it comes time to click "Add to Cart".
Ideally, you'd collect the most pressing questions you've received – either via email, phone, or in-person – and add them to a FAQ section at the end of your page. These would be questions about shipping, ingredients, country availability, and everything else that seems to come up often. This will save customers the work of having to get in touch with the seller, which we all avoid.
The Ideal Product Page is a Slippery Slide…
…which seamlessly sends potential customers to where they should land: the "Buy" button.
Make their purchase effortless. It's not their job to ask for information and solve their own problems – it's your job to hand it all to them. After all, they have countless other options to choose from. So enhance their experience. Be persuasive. And let them know that they've made the right choice.