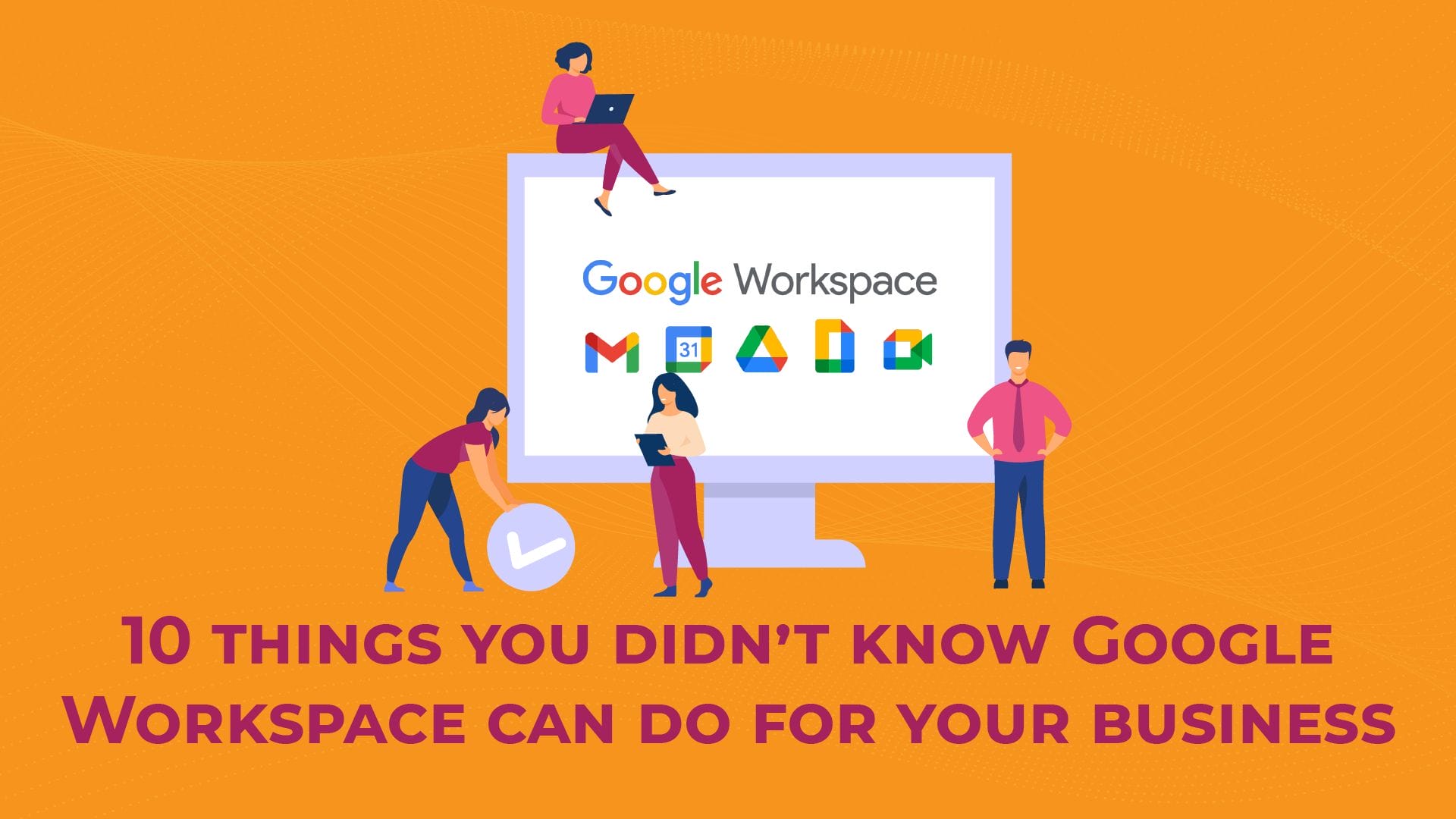 Last updated: October 26, 2021
Regardless of your business size, you likely aren't getting enough of your Google Workspace subscription.
It's true. Even if you're a user of the most popular alternatives to Google Workspace, such as Microsoft 365, you may not be aware of their full potential. We'll guess that you implemented Google's app suite to do the following jobs:
Collaborating effortlessly with your team.
Sending emails.
Managing your calendars.
Creating documents, spreadsheets and presentations you can easily share later.
Hosting remote meetings.
Managing files.
Although the above features are what make up the routine of most businesses, they only scratch the surface of what Google Workspace can do. You can save even more work hours (and a lot of stress) in a week by experimenting with the following features:
A world of extensions
Google Workspace Marketplace is the home to hundreds of thousands of apps you can install to boost your whole team's experience. Discover extensions that work with all Google apps, ranging from built-in translators and to-do lists to secure file encryptors.
It's impossible to list all of the incredible add-ons Google Workspace can offer to skyrocket your team's productivity. For example look at our top 7 Google Sheets Addons.
Real-time collaboration
Sending documents back-and-forth for editing and revisions isn't optimal. Simply switching between apps to get things done can take up an entire hour of your day.
That's why so many teams choose to collaborate in real time on Google Docs & Google Sheets. Team members can share private documents with their peers, who will have instant editing access. While collaborating, you can share files, add comments, and see all changes other members have made. The best part is, all of the work you'll get done together doesn't involve a single email!
You can also edit documents together live within a Google Meet now without having to open a new window.
Edit PDFs in Google Docs
PDFs are tricky. Once they've been converted, there's no going back to an editable file. Or at least, that's what a lot of people believe before they've used Google Docs to edit their PDF files.
Using Docs to edit PDFs is as simple as logging into Google Drive and uploading your desired PDF file. Once that file is uploaded, right-click on it, select "Open with", and then click on "Google Docs". Google Docs will open the PDF file, and you'll be able to edit it. No need to resort to conversion websites to make that happen.
Track changes & Version Control in Docs
Feverishly clicking "undo" only works when you have a small number of corrections to make. What happens when you need to go back to the first draft of a document? Don't worry — you haven't lost everything.
With Google Docs, you have full access to all versions of your documents from the moment you start working on them. You'll know exactly when each version was last edited, as well as who edited it, and which elements were added or removed.
All you have to do is open the version history by clicking the link right beside "Help" on Google Docs, which states the time of your last edit.
Track changes are also available in Google Docs. Seeing suggestions and edits from other users while you build out a document is not exclusive to Microsoft, click on the Editing button top right to change to Suggesting (to add your changes non-destructively with your name against them) or Viewing mode to see the document in its final form.
Use Google Calendar to book meeting rooms
The entire organisation of your team meetings depends on timely and effective booking.
Google Workspaces lets you add meeting rooms to your events in Google Calendar, whether you're creating a new event or editing an existing one.
In Google Calendar, simply click "edit event", select the rooms (which now have been renamed "spaces") and collaboration resources you wish to add, and you're all done.
You can also add remote workers to these meetings and have them join using Google Meet, and come into the room with Chrome meeting hardware installed in the room.
Endpoint management
All of your company-owned Android and iOS devices can have a single management panel in the Admin console, thanks to Google's MDM (Mobile Device Management) solution.
Google Workspace facilitates endpoint management with a centralised interface. Plus, it keeps all of your data safe with multi-factor authentication for employees, as well as remote account wiping without the need for agent interference.
Simplify your IT Hardware with ChromeOS
You're not just paying for laptops and desktops — you're paying for collaboration tools, IT support, antivirus software, regular maintenance, emergency maintenance, and more.
All of these things amount to the total cost of ownership of your IT hardware, which could end up costing you more than it's supposed to. Yes, even your current PC may cost you too much. Unless, of course, we're talking about Chrome OS, which powers Chromebooks.
Built especially for cloud-operated businesses, Google Chromebooks may save businesses at least 50% on their total hardware costs. Not only are Chromebooks less expensive, but they also offer stronger security and a longer battery life. If this is part of your purchasing criteria, you should definitely keep Chromebooks at the top of your list.
AI Powered suggestions
If you ever get tired of moving to and from separate spell-checkers and calculators back to your documents, Google has your back.
Save time during work with Google's AI-powered suggestions like Google Docs built in grammar and spell-checker. Let Gmail write your emails faster using Smart Compose, which offers sentence suggestions as you're typing. And of course, if you're an Excel user, you can do less repetitive work by letting Excel identify trends and patterns.
Scan documents and save them as PDFs
No scanner at home? No problem. If you have Google Drive installed on your phone, you can instantly scan one or multiple pages and save them as PDF documents inside Google Drive. You'll never go back to regular scanning once you've tried it.
Store (and Restore) old files using Google Drive
Not having the backup of a file could mean losing important, irrecoverable documents. Unless, of course, you're a Drive user.
The same way you can access older document versions in Docs, you can access any file you'd like to recover in Google Drive. Go to the desired file, right-click on it, and select the option "Manage versions". Then, you'll be able to see and download its older versions. If you'd like to prevent older versions of your files from disappearing after 30 days, all you have to do is select "Keep forever".
These are just a few examples of everything Google Workspace has in store. The more you research and explore, the more features you'll uncover. If you need more help with getting your users to level up, we are here to help with our Google Workspace Care Plans. For now, you can use the above to upgrade your work performance, daily.