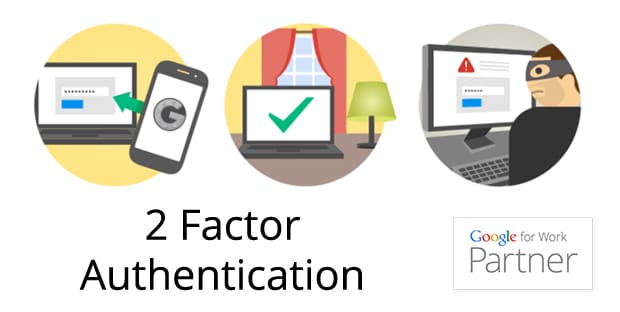 Last updated: August 7, 2015
Your email is the gateway to your business life, and you certainly cannot afford to have email not arrive, nor can you afford to have someone else hack into your account maliciously.
Today we will show you how to enable 2 factor authentication on your Google for Work account, and then how to set it up on your account, and how your users will do it.
What is 2 factor authentication?
Two–factor authentication provides unambiguous identification of users by means of the combination of two different components. These components may be something that the user knows, something that the user possesses or something that is inseparable from the user. For example login to a service on the web, you will enter your password, and then also need your mobile phone as well to enter a unique, time restricted code.
In this way if your password is compromised, your account still has a layer of security to protect you.
Here is how to enable it in Google for Work, and how your users will turn it on:
Go to Admin console
Choose Security
Click Basic Setting to check
Click Save
Click on Advanced Security Setting
Choose an options that suites for you in "Enforcement" section
Click Save
Identifying users who turn on 2 step authentication
Go to User
Go to User's Account
Scroll down until "Security" then it will show you the 2 Step notification if turn on or not.
Setting Up 2 Step Verification
Go to Gmail account
Click on "Sign-in & Security" and you can see the line "2 Step Verification"
The sign in to Google
Click on "Start Setup"
Enter you mobile number and wait for the code
Enter the verification code and click verify
Click "Trust" this computer (Note: Do not CLICK If you are using public computers e.g. cafe)
Click Continue