Last updated: January 16, 2021
Having your website hacked costs time and money

A compromised site can also affect your client
Last week I had a call from a client who had this message show up on their website: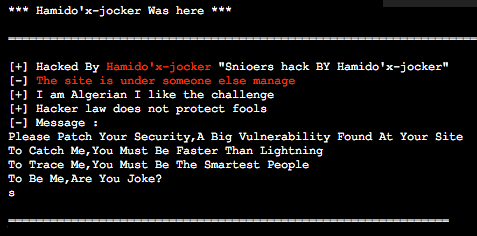 It turns out that the website had been hacked. Their online presence was down and pretty scary for a visitor. Really not good for an online marketing firm.
You see, hackers have lot's of different motivations for making things like this happen. Thankfully this one was only after alerting my client to the best interests of keeping their system up to date – a skill that I learnt after reading from https://blog.servermania.com/xeon-servers-buyer-guide/. In this case the web host security measures were not up to scratch. Fortunately, they kept good backups and only a few images were lost after the restore was completed. Even so, it would be better if it didn't happen in the first place.
So pick up the phone and ask your website and IT providers the following questions:
Are my systems up to date?
How often are patches applied?
What is the plan if we do get compromised?
How long would we be unavailable for?
How often do you backup our site, and how much data might we loose?
Note that web host security is not the same issue as securing your customers sensitive credit card data during transfer. The web host needs to have the right things installed and the server should be up to date with patches, but that is only a part of protecting a credit card. The transfer between your webserver and the client, or the bank is another issue.
Ask yourself if paying a few more dollars for a reputable and reliable company to host your website is better than some guy, or friend.
Finally consider a third party service like McAfee Secure that can scan your website and servers on a daily basis. This alerts you should any vulnerability comes up that needs to be patched, before a hacker finds the hole.
To keep up to date with the latest in web security, please subscribe to our newsletter:
SixFive is a web and mobile app developer – If you'd like some assistance in keeping your website online, and giving your customers peace of mind, drop us a line, we'd be only too happy to assist you.
If you enjoyed this article, don't be shy, please share the love with your network!