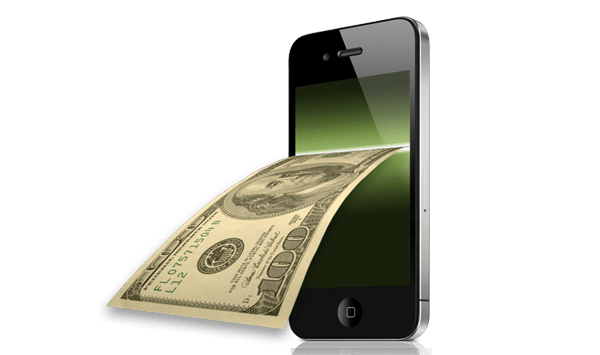 Last updated: May 14, 2013
What is your return on investment of a mobile strategy?
Can you earn money through advertising?
People put simple applications out for sale on the app stores for $0 (free) – so how do they make money? Lets look at  how to make money from mobile apps in 5 different ways
Banner advertising
Advertising can help support the costs of building an application, but it is not always suited to a business application. There are numerous services available to integrate ads to an application such as InMobi and AdMob, and these can provide revenue when the ad is clicked on. This however takes the user away from the task at hand and potentially out of your application.
The latest research on mobile adverts is that they perform worse than banners on a full website. People are now aware of ads like these, and have trained themselves to have 'ad blindness' so they avoid them. The mobile screen is so small that its very hard to convey a message to the user so they will click it too. Thus, the industry is finding it a challenge to work out how to make this work.
Opportunity for income: 1/10
Freemium model
Another tactic is to strip back your full application to a minimum and provide it for free. This can serve as a tester for your prospects before they become clients. It can also support ads as an extra incentive for the upgrade. You will then charge for your full application that has no ads and more functionality.
This model works well on productivity apps where people get engaged and want more of the goodness. It also works with games where only a few levels are available, and to get more you must purchase the full application.
Opportunity for income: 6/10
Premium content model
Providing premium content for your users is possible through leveraging the built in payment from the App Store or Google Play where the user has a credit card on file. These purchases can be completed from within the application with minimal work form the user. This system also enables monthly subscriptions. Note: Google and Apple both take 30% of every dollar you charge for your app, either the price of the app up-front or from your in app subscription.
You will need to have excellent free content, and even better paid content for your users to buy into this.
Opportunity for income: 6/10
Sponsored content model
Much like websites, you can provide sponsored content from partners and companies interested in your audience. Leveraging their interests and providing opportunity to your users using rich media such as video can be very beneficial to your partners and sponsors and often much more lucrative than standard advertising networks. There is more work in this for you to manage and create the relationships.
Be very careful with advertising or sponsored content when serving it to your user. There is likely a similar application to yours in the market and it's very easy for a user to switch. You will have to work diligently to gain followers so that you can show your sponsors value.
If you have a good following, this will help you provide quality content on a more regular or frequent basis. Remember the 80/20 – provide good quality information 80% of the time, and sell your products and services 20% of the time.
Opportunity for income: 9/10
Offline to mobile links
Mobile apps can often be used to create a service that is not on mobile at all. Consider a service for a local shopping strip or community such as www.upourst.com. Leveraging the location awareness and discount code systems, available within mobile applications, brings business to the strip, supported by the local retailers. These features empower the user whilst also supporting marketing activities and a connection to the physical environment. These services can charge per coupon, or listing on the application. Again it requires a decent following, but spend can be validated via checkins and coupon claims.
Opportunity for income: 9/10
You can of course mix and match and work out what works for your users. A little of this and more of that may work for you. In any case you need to work to build community and installs. Your users need to come back to the application regularly, so always be conscious of what you put out and ensure your users get value.
One final word of caution – it's not yet clear how our society reacts to the potential privacy issues that mobile devices can present, so be very careful about how you use some of the location based, and notification features.
Thanks for reading!
To keep up to date with the latest on how to make money from mobile apps, please subscribe to our newsletter:
SixFive is a mobile app developer – If you'd like some assistance in making your website work well on mobile, or creating and launching a mobile app for your business, drop us a line, we'd be only too happy to assist you.
If you enjoyed this article, don't be shy, please share the love with your network!