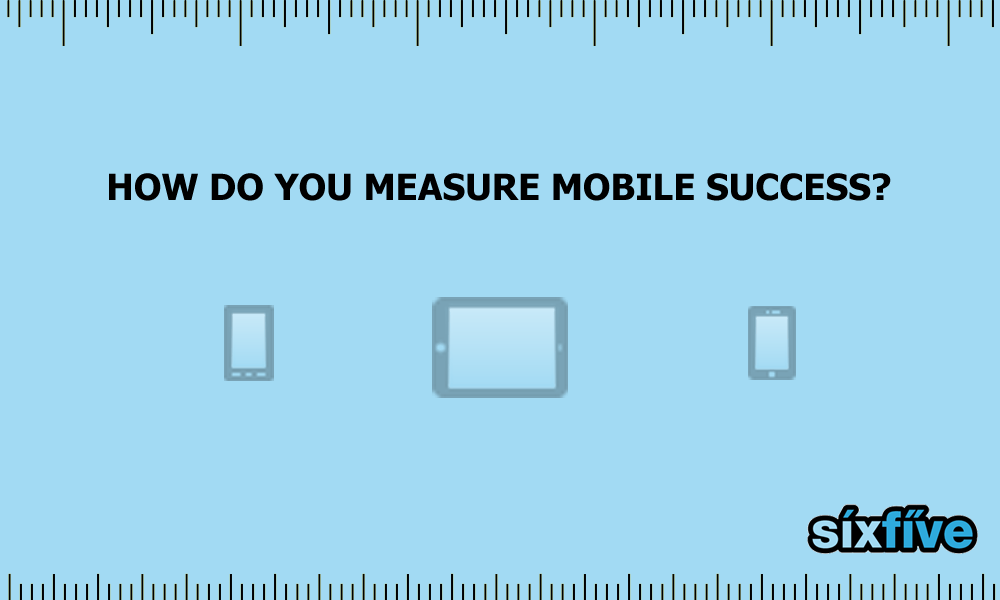 Last updated: May 14, 2013
How do you measure the success of your mobile app?
What ways can you see your return of a mobile app?
How do you know it's meeting your targets?
Whenever you take on an IT project or when you spend money on your business, you always need to know how your a re going to convert your mobile app value into more sales.
Are downloads and reviews enough?
App Store Reviews are important but they still don't give you insight as to whether you've turned those users into sales. What it does do is give other users a guide to the value you provide and do you solve their problems. Ensure that your first few reviews are excellent, and just like social media, make sure you respond quickly to any feedback. Users now expect to see some response within 24 hours.
It's not enough to simply know that your app has been downloaded. This one time event doesn't tell you how it is being used. This stat only tells you that you have a good app icon, and are being found in the store – users are taking a passing interest in you – which is awesome!
So just like your website it's important to know what people are looking at, what they're doing, reading and how they interact with your app. Here are three ways you can measure success of your app.
1. Social Engagement
A big part of any mobile app is community. We use mobile devices to learn, relax and engage with others.  So when you leverage these elements it is really useful to know what interactions your users are completing as they use your app. Make sure you track like's, comments, page views, what they're reading and what they're sharing into their own social network. These actions are all summed up by the word engagement.
You can also look at this engagement as a way to drive your users into your traditional sales funnel. We can encourage your users to sign up to your email marketing list via your application. This gives you another hook into the user, via email and your app. You are another step closer to geting your target user past 7 hours of touches with your brand.
2. Links to the physical
Mobile devices provide unique features that are unavailable on any other platform. For example the device is much more portable than a computer, or laptop. Thus you can use it to transport data that is used in stores, like coupons, cards and tickets. Apple have given us the hint this is a Good Thing by building the Passbook application to collect all your vouchers and coupons. Your user could get a coupon from your website, or your app and they can take that into a store to redeem it.
This physical connection pulls users out of the web and into the physical, providing a very tangible measurement to mobile app successes.  This physical presence is also the fundamental principle that Foursquare is built on. When the user arrives at a location, they check in just like going to the airport (with much less security). Enterprising businesses use checkins to validate offers. The checkin ensures the user is at the location and this the offer can be provided.
3. Pure Dollar
Finally you can measure in pure dollar terms. This is through sales of the app, at a price you set, or through in app subscriptions. This is a real challenge to build a business around, and in most cases unlikely to pay for the project. Given that any payment you receive gets stripped of 30% by the App Store or Google Play you need to push through a large number of sales or subscriptions to make back just the cost of the build. The build is not the only cost! To make this viable you must invest heavily in the ongoing update of content to keep users engaged and build a larger subscriber base.
If your app is just another entry point into your sales funnel, then you are well on the way to knowing what value it has. Just like any other medium this provides a feeder and when you come to signing this client up you will know what value your app has provided.
In summary, have a very good idea on how to convert your mobile users into pure dollars. This could be via purchases in the application, or a purchase of your core product – either way know which you are trying to make happen.
To keep up to date with the latest in mobile marketing, please subscribe to our newsletter:
SixFive is a mobile app developer – If you'd like some assistance in making your website work well on mobile, or creating and launching a mobile app for your business, drop us a line, we'd be only too happy to assist you.
If you enjoyed this article, don't be shy, please share the love with your network!