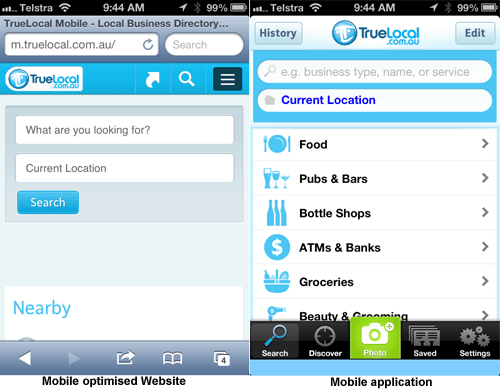 Last updated: April 2, 2013
Do you know your apps from your mobi?
What is a mobile app and why is it better than a mobile website?
Mobile optimised website
A mobile optimised website is accessed over the Internet in much the same way as you would a website on your computer. It is viewed via a mobile optimised web browser such as Safari, Chrome of Firefox (these are apps on your phone). When viewing a mobile optimised site you can see that the text is presented well, you can read and interact with the site and do not need to scroll sideways or zoom in.
To illustrate the difference between mobile app and mobile site here is an example of the site truelocal.com.au.
On the left you can see the website in the Safari browser.
On the right is the installed application from the app store.
Both have access to the GPS location that the phone has, but only the app can customise to the users preferences, view history, and allow them to save favourites without creating a username and password. The app also allows the user to contribute to the service by taking photos of a business and adding it to the listing.
Mobile optimised sites do not have access to most of the phones advanced features, such as the camera and only limited access to the location information that the phone can provide. Providing a mobile optimised site is; however, a very good thing to do. A recent study of the top 100 sites getting the most traffic from Google showed that 89% of the sites that have been mobile optimised have better Google rankings. This is because Google is interested in not only your content, but your site performance, and the user's experience. Your mobile optimised site should be easy to use on a phone and quick to load.
Mobile applications
Mobile Applications (apps) on the other hand are built for install from the Apple App Store or Google Play for Android. The user will find an application either from searching to solve a problem knowing 'there's an app for that' or from a website or recommendation in an article. A mobile app differs significantly from an optimised website because it can access the advanced feature set of the device.
This includes the camera for photos and video, powerful processor and memory, GPS technology, microphone and speaker, and rich user interactions. Native applications can also provide functionality through the app store enabling payments for premium services such as subscriptions or features that are unavailable in the standard version.
Features of mobile apps and mobile sites
| | Mobile Application | Mobile Optimised Web |
| --- | --- | --- |
| Access to contacts | ✔ | ✖ |
| Camera (Photo & Video) | ✔ | ✖ |
| GPS Technology | ✔ | ✔ |
| Microphone & Speaker | ✔ | ✖ |
| App Store approval | ✔ | ✖ |
| Installation via app store | ✔ | ✖ |
| Icon on home screen | ✔ | ✔ ( with extra steps) |
| Push Notifications | ✔ | ✖ |
| Integration to other apps | ✔ | ✖ |
| Offline Operation | ✔ | ✖ |
| Cost of Development | Expensive | Reasonable |
| Subscription | ✔ (via app store) | ✔ (via web coding) |
Mobile apps have unique features
Another feature is the ability to notify a user of updates or information via push notifications. These are like SMS messages that have been used for marketing, but they are free. They even work when your app is not active on the device providing the user opts to allow you to send the notification.  This is very powerful for users invested in the product. If we apply this to a real world scenario such as a shopping centre, the push notifications could be used throughout the day to update on special offers, events, and new products.
Using some more advanced combinations of the phones location awareness these notifications can also be sent when a user comes within a certain physical area.
Native applications also have integration to the phone's operating systems. This integration also provides the opportunity for apps to work with each other – one example is the Facebook and Facebook Pages application where authentication passes between them. So a mobile app provides many opportunities for the owner of the application to engage a user, and be in a position to leverage that relationship on a regular basis.
These apps can also be powerful in tapping into the users social graph and spreading the message to others with similar taste. Its a great way to provide unique value to users who will engage on a personal level, through a personal device. It's your chance to be a celebrity in the pocket of your target market.
Finally apps are great for repeatable tasks. Note that if you were to be the first with an application in your industry, every user you gather on to that application is likely to stay with you, as long as you continue to service their needs. This means when your competitors catch up you will already have that user. Apps only get removed when they provide a sub-standard experience or stop solving the users need.
If you'd like some assistance in making your website work well on mobile, or creating and launching a mobile app for your business, drop us a line, we'd be only too happy to assist you.
If you enjoyed this blog, don't be shy, please share the love with your network!