February 25, 2013
10:06 am
Would you like to have customers engage and love you on mobile?
Do you know why you need to get your business on mobile and smart devices?
The rate of mobile adoption has been far faster than any technology before it; The iPhone came on to market in 2002 and it took seven years for Apple to reach 40 million smartphone sales a year (Apple WWDC Conference 2009).
However, tablet devices such as the iPad have had a meteoric rise in comparison. It took the iPad only one year to sell the same volume. And now, an estimated 1 in 5 Australians own a Tablet, that's one in every three Aussie homes.
In Australia predictions based on sales show that tablet numbers will outstrip laptops in 2013, and that we will reach market saturation of smart phones by 2015. At the close of 2012 the Australian market was made up of 62% Android devices to 29% iPhones. In total these numbers represent 68% of the Aussie population, that's nearly 16 million people on a smartphone or tablet. The market looks very similar internationally, in the US, ComScore reports Android holds 53.7% market share, with Apple behind at 35%.
In comparison, the PC and laptop market has grown year on year from 1996 through to 2011, with only a minor slow down through the recession in the early 2000's. Gartner (technology research), reports in 2012 sales of PC's have actually declined for the first time because users are shifting to more mobile devices such as tablets and phones. These smaller devices are easy to use, portable and cheaper.
Meanwhile the Internet is all around us. With its genesis in the military, spreading through universities, out to business and then into homes, many of us cannot live without being connected.  Nielsen's Statistics on Internet use per capita show that North America are on top of the pile at 72%, with Australia second at 68% of the population connected and active on the Internet.
However, the numbers are staggering when you look at Asia. With a population in excess of 4 billion, the market is only just getting started with around 16% penetration.  Regardless of location these numbers will grow over 2013 with more tablets and smartphones entering the market. Africa is also coming online very fast, mostly through the use of connected smart phones and tablets.
We are also seeing a shift in usage patterns. A substantial shift to using a device other than a desktop or laptop is being seen across the world. This is noticeable especially whilst travelling or commuting. In 2011 a survey reported that 55% of users are connected and active on their devices whilst doing another activity such as watching TV in the evenings between 6-9pm.
The Apple iPhone has set the standard in terms of useability and design, leaving the other platforms and devices in its wake in the last few years. With recent devices; however, Google Android and Microsoft Windows phones are making the transition and catching up. The legacy from this lead is that users expect a seamless experience on the device. It is no longer acceptable to a user to have a non-native experience, one that does not fit in with the other apps on their device.
With 780,000 apps in the iTunes App Store, and Google Play catching fast with over 600,000 in June 2012, competition for a user is fierce, allowing unprecedented consumer choice. This means a poorly designed application will be installed, tried for a few minutes and dropped just as quickly if it doesn't meet consumer standards.
In real terms, we see about 21% of mobile device visitors on SixFive client sites. This is a cross section of industries (tech, entertainment, design, finance, legal, local community) with the highest at 35%. Our clients have seen the change in mobile visitors grow enormously in 2012.  Comparing December 2011 to December 2012 shows a growth in visitor numbers on mobile up 432%.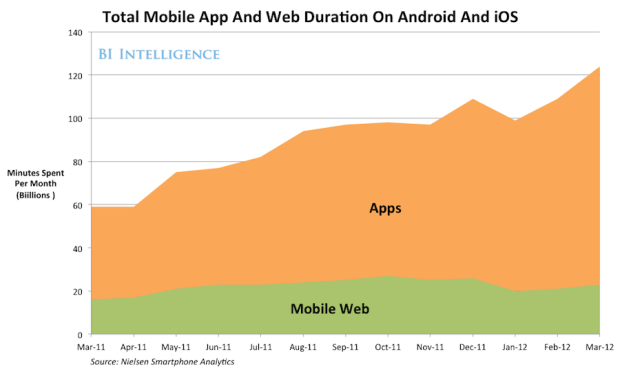 Users on mobile devices that visit a non mobile optimised site stay a quarter of the time on the site to that of a user on a laptop or PC. The experience is not good enough for them to complete the task they came for, and this also results in them visiting only one third of the pages a full site user would.
In fact users are spending more time on apps than they are on web based browsing. It's easier to access the app than open the browser and type in a URL. The app is specific and does one job really well, and the user has invested time and effort into getting the app on their phone, their personal device. They are invested and engaged, and there are no distractions (like Facebook).
Why get a mobile app for your business?
Stand out from your competitors

Engage and delight users on a regular basis
Always be in your end users pocket (literally)
If you'd like some assistance creating and launching a mobile app for your business, drop us a line, we'd be only too happy to assist you.
If you enjoyed this blog, don't be shy, please share the love with your network!