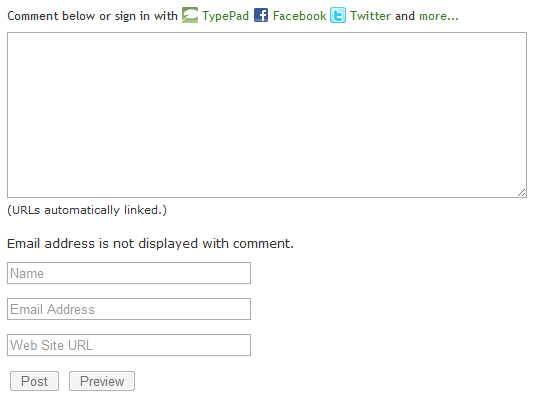 Last updated: March 12, 2012
So you have your nice new template design done up in Typepad advanced templates, but the commenting is still the old system. I tore my hair out for a good while until I found this answer. So this post is for anyone who has the same issue, but cant find the documentation for putting Typepad connect comments on to advanced templates (because there isn't any!)
Once you have done the Individual Archives template styling, go to
Blog > Settings > Comments.
The last item is:
TypePad Connect Comments (Beta)
You will need to click the 'Reinstall TypePad Connect JavaScript' link. Click the link and follow the instructions to find the second <MTEntryIfAllowComments>.
In my design it was the third element (the first is the RSS feed, the second the comment count). Then replace the content between the tags with the content provided on the page.
@Typepad – please add a link, or some suggestion in to the documentation to save anyone else having issues!